2020 was an Amazing year for VilleCorp, there were so much improvements and expansion that happened and the most notable is our investment arm which was launched on the 15th of June 2020.
This innovative VilleCorp product helped VilleCorp rapidly expand from 30+ locations and less than $50,000,000 in assets to over 80+ locations and over $1,000,000,000 in assets.
Launching the investment arm of VilleCorp as a way to leverage the growing acceptance of blockchain technology and huge potentials of cryptocurrency has strategically placed us at an amazing vantage point for visibility in the Real Estate Sector.
Our success story is not without its challenges. Despite the hardship faced worldwide because of the Corona Virus pandemic which saw Villecorp staff working from home round the clock to ensure optimal service across our platform. VilleCorp did amazingly well because while many sectors like the transportation sector (especially the aviation sector), Entertainment industry and so many others were hugely affected, we noticed a surge in the technological sector - Companies like Tesla, Facebook, Zoom and others grew so much during the lockdown and the real estate industry was not left out. We made tours virtual and also capitalized on cryptocurrency payments as opposed to physical cash to enable faster processing of investors portfolios.
WHAT HAVE WE BEEN ABLE TO ACHIEVE IN ONE YEAR?
VilleCorp has been able to touch millions of lives with it's investment arm initiative thereby bridging the gap that has always existed between the "haves and have nots" when it comes to real estate investments.
Real Estate investments used to be exclusively for the wealthy but VilleCorp has introduced a revolutionary investment strategy that combines the power of Cryptocurrency Blockchain and Real Estate to enable everybody irrespective of social or financial status to invest in real estate with a low entry point of $50.
The direct benefit of this expansion is the creation of more job opportunities. VilleCorp currently employs over 9000 professionals in diverse fields which includes Engineering, Quantity surveyors, computer engineering, code developers and support staffs.
We are always on the lookout for more talents and prospective employees can head over to the "Career" section of our website to see if they qualify for any of our open positions.
We recently had a success team meeting and some picture or video highlights would be uploaded on our media channels. At the meeting, a lot of issues were discussed but one was most prominent - Platform Expansion and customer satisfaction. And below are some of the radical changes we have made:
DAILY WITHDRAWAL UPGRADE: When VilleCorp initially launched, investors were only able to lock their funds for 14 days in the VilleCorp platform, once an investment is made, they would not be able to release their funds until the stipulated 14 days investment period, Recently we changed that in the system, a portion of each investor's capital and profits are now released every 24 hours from the time the investment is initiated, this released funds is available for withdrawal if it meets the minimum withdrawal limit requirements which is $1 for "Perfect Money" and $50 for Cryptocurrencies.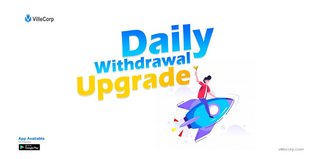 TELEGRAM COMMUNITY: To increase accessibility to the VilleCorp team, we decided to open a telegram community chat that would enable members of the VilleCorp community to easily reach/interact with our admins/support staff, this is aimed at increasing transparency giving community members a forum where they can meet and interact and so far, it has been a resounding success.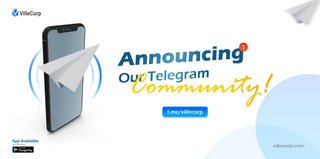 DOGECOIN ACCEPTANCE & PAYEER REMOVAL: Dogecoin is a meme coin that has existed for years but it recently attained huge attention and popularity when innovator and Billionaire Elon Musk showed his support for the Cryptocurrency, and to show our support for the Cryptocurrency community, we have added Dogecoin as one of our payment method and also removed our support for Payeer which is a fiat currency similar to Perfect Money, making it redundant in the platform.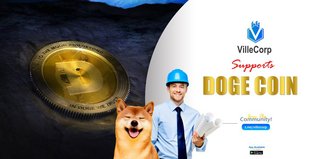 NEW INFORMATION PAGE: We recently launched a new page dedicated solely to educating our users about the VilleCorp platform, this is to stem the rise of misinformation pattern we have noticed, this new information page contains information such as VilleCorp Investment Plans, Investment Calculator, Platform Stats, Cryptocurrency market stats and API for builders who want to integrate their app/website into the VilleCorp Ecosystem.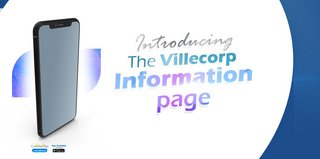 PLATFORM STATISTICS: This is one updeate that we have been very proud of because it is aimed solely at transparency, the platform statistics we have decided to make public includes information such as Total registered members, total revenue (deposits and withdrawals), days in operation, latest 10 deposits and latest 10 withdrawals, this feature can be accessed in the user dashboards and also in the new VilleCorp information page.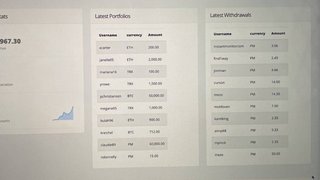 ADDITIONAL SECURITY: We recently did a massive update that was aimed at improving the security of user funds, while we are a very security oriented platform, we noticed that some users tend not to take some neccessary precautions in securing their accounts and so to ensure the security of accounts, we took some steps to remedy the situation by integrating and enforcing the email 2FA security, this is to ensure that even if a malicious user were to get their hands on user information such as passwords, they still wouldn't be able to have access to user accounts because of the extra layer of security, this is besides the optional Google 2FA authentication we have integrated in the platform.
The VilleCorp platform has been growing in leaps and bounds since it's inception, we have been expanding our services to more locations and regions worldwide and we have also been expanding our list of financial services, this is just the beginning, the best is yet to come. Happy Investing.